Since 2008, we are seeing the Themes feature in Gmail. Then onward we could able to add flavours to our Gmail background with colors, and some fantastic pictures. After 6 years i.e. in 2014 Gmail again came up with new Customized Themes option. We need not to bound to use only the default Themes and Pictures available, but also we can create our own design and even with our own Background Image.
Set your Own Background Image using Custom Theme.
If you love your Pussy Cat or you are a grate devotee of Lord Shiva, now you can set those Pictures as your Background in your Gmail Themes, and even you can share your Customized Theme with your family members, friends, college, etc.,. To create a Custom Theme
Login to your Gmail Account.
Click on the Gear in the top right corner.
Come to the Custom Themes and select either Custom Light, or Custom Dark.
To set you own image(Gmail recommends that you select one larger than 2560 x 1920 px) as background click on Select a background image link.
You can select any one of the featured images or select the Upload photos tab to upload your own image from your computer.
Owesome, now you Gmail background has been decorated with the custom theme.
Share your Customized theme with others
After you have created you Themes google make it to share with others. To share it with other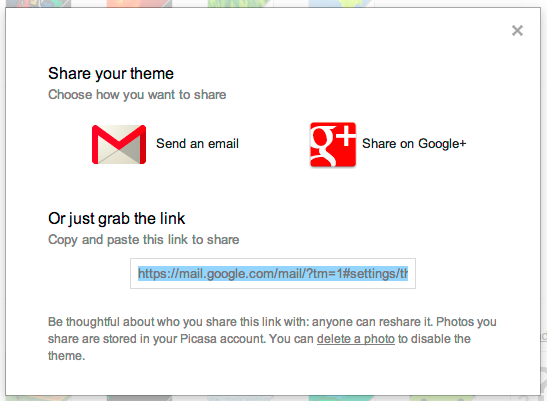 Again get back to the Custom Themes, there click on Share your theme link.
Through Share your theme popup menu, you can share by sending an email or sharing in Google+ Social Network or even you can sent the Link of your Customized Theme.
Labels:
Internet
Tech